Years ago, I was attending a book club. We were discussing an autobiography that was written in 2004. The book contained one miracle story after another. And not just nice feel good stories but true miracles that involved angels, healings, and God's intervention.
One of the ladies made a comment that really surprised me. She said, "We don't need miracles like this anymore because we don't need proof of God. We already know he exists so we don't need an angelic visitation in order to believe." I could see her point. She was solid with God. But what about those struggling with their faith? What about the wounded? What about the seeker?
I for one had experienced miracles in my life and knew the power they had to bolster my faith. I reflected on this comment for a while. Okay, years. And I wondered, why don't we have extraordinary miracles today? As I pondered this, I realized I was making an assumption. Maybe people do experience miracles today. Maybe miracles haven't ceased. Maybe we just don't talk about them enough. Maybe there isn't a safe forum to share.
That's why I've created the new FREE Wonders and Miracles podcast. A show dedicated to the miraculous moments in everyday lives. This podcast is a safe place to celebrate awe-inspiring true stories from regular people like you and me. People who have experienced something surprising and wonderful that is the work of a Divine Source.
In a world full of seemingly endless struggle, this podcast helps us become aware of and recognize God's miracles in our lives. In Psalms 96:3-4  it states, "Declare his glory among the nations, his wonders among all people. For the LORD is great, and greatly to be praised." Let's celebrate wonders and miracles together. Because I believe, the more miracles we notice the more miracles happen.
Check out the links below to tune in. A new episode is posted each week on "Miracle Mondays." See you soon!
Liza Lawrence
Follow me on Facebook; Wonders and Miracles Podcast
Follow me on Instagram @wondersandmircales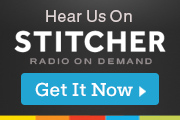 Also, ask Amazon's Alexa to open the "AnyPod" app and search for Wonders and Miracles.